Find Your Best Fit
We strive to promote opportunities that will help you to join and network with smart minds around the world immersing yourself in an environment bursting of ideas!
Scholarship to participate in European Forum Alpbach
The European Forum Alpbach 2023 will take place from 19 August to 2 September 2023.
Every year, over 650 students from almost 100 nationalities participate as scholarship holders in the European Forum Alpbach. Join smart minds from around the world in a charming Alpine village, immersing yourself in an environment bursting with novel ideas, new ways of thinking, and opportunities for making great contacts.
With the Alpbach Scholarship Programme, young people under 30 (or under 35 for African scholarship holders) can attend this leading interdisciplinary conference and a variety of academic and artistic seminars.
In addition to the common conference programme, scholarship holders get to attend the Alpbach Seminars which are the academic heart of the European Forum Alpbach. The seminars run for two weeks during the forum. They take place in the mornings and are characterized by a participative atmosphere, an interdisciplinary approach and intergenerational dialogue. Scholarship holders can choose two seminars, which they attend each for one week. The interplay of scientific, creative and skill-orientated seminars, together with the programme of panels, workshops and plenary debates in the afternoons transforms Alpbach into a place of innovative knowledge transfer and holistic learning.
Please note: Scholarship holders are required to arrive on 19 August to join the scholarship welcome event.
Information about the next scholarship program will be announced in due time.
For all questions regarding the Scholarship Programme, please contact directly EFA Foundation at: scholarships@alpbach.org or AAN Board on: africa@alpbach.network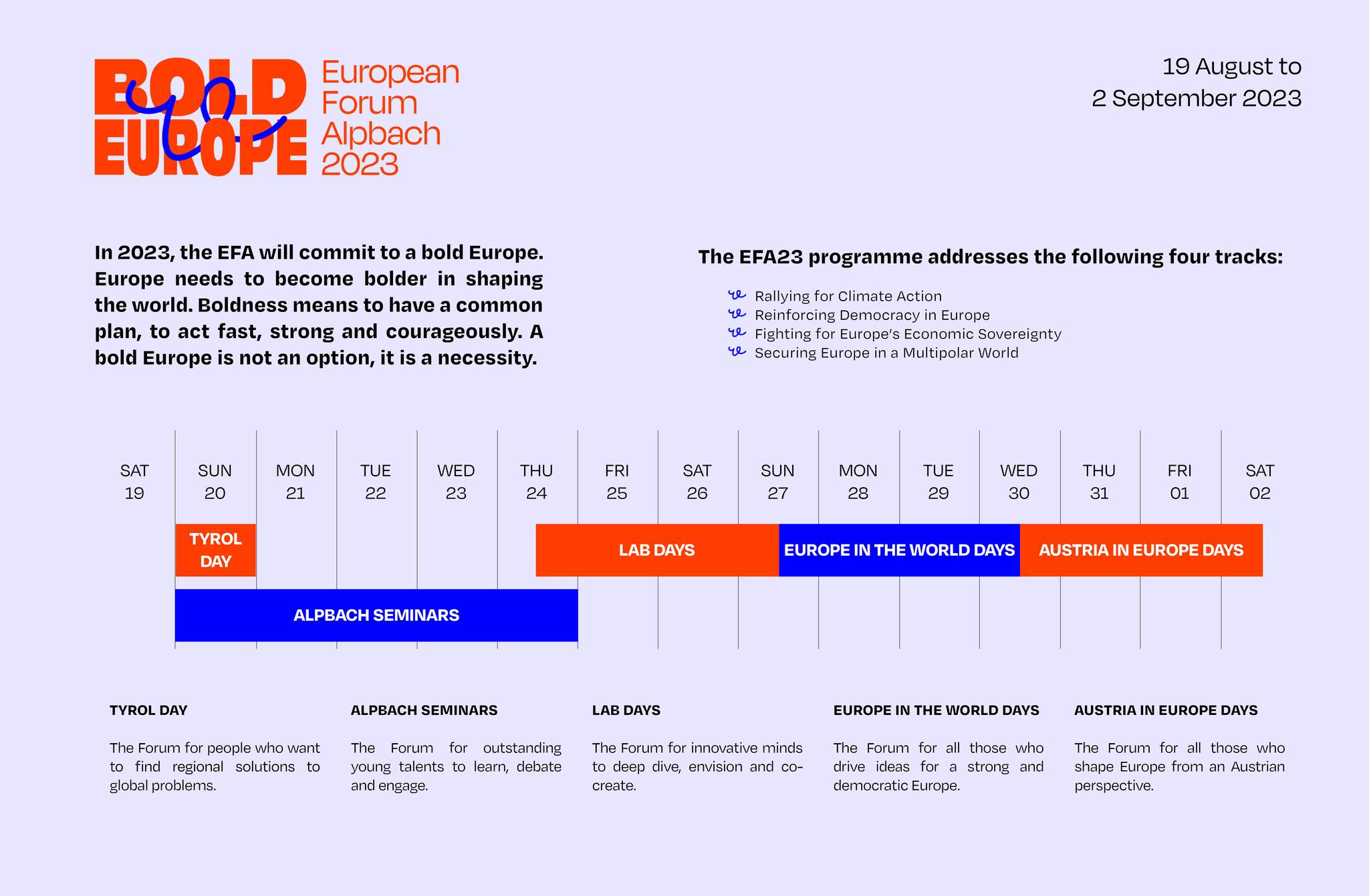 THE CALL FOR APPLICATION IS OPEN UNTIL 31 March, 12 pm: APPLY NOW

 

PLEASE PREPARE THE FOLLOWING INFORMATION:

Motivational statement answering the following question: What motivates you to take part in EFA23? Explain which track(s) you are most interested in and how you will contribute, in terms of perspectives, ideas and knowledge, to its discussions. Be as concrete as possible and link it to your personal background.

CV details (you can indicate up to 5 professional activities, 5 educational stations, 5 extracurricular activities in our application form).

Proof of your English B2 level. We accept the following documents:

A language certificate (e.g., TOEFL with a min. score of 72, IELTS with a min. score of 5.5, CPE or CAE with a min. score of 162, MUET with a min. score of 5).
Proof that you studied or are studying in an English-speaking country
Proof that your degree is taught entirely in English
If you are a native speaker, you can upload a copy of your passport. You are considered a native speaker if you come from one of the following majority English-speaking countries: Antigua and Barbuda, Australia, The Bahamas, Barbados, Belize, Canada, Dominica, Grenada, Guyana, Ireland, Jamaica, New Zealand, South Africa, St Kitts and Nevis, St Lucia, St Vincent and the Grenadines, Trinidad and Tobago, United Kingdom, United States of America.
A confirmation by your school, employer, or a university professor, explicitly stating that you have reached B2 or an equivalent to B2.

Latest diploma or transcript of records or proof of employment. If your transcript or certificate is in a language other than German or English, you need to submit a translation. This translation does not need to be certified. Please do not send any additional certificates as we will not consider them.

NOTIFICATIONS

Our selection committee consists of engaged members of our community who work in various fields of society, e.g. academia, think tanks, business, etc. Our alumni network is also actively involved in the selection process.

Candidates will be notified about their application status by the end of May.
Please note that in some cases, additional online interviews will be conducted.

 

Should you need any further information, please contact scholarships@alpbach.org.

 

For requirements of the Africa Alpbach Network, please contact the AAN directly.